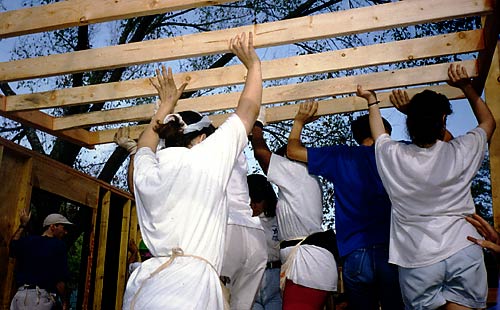 God of all blessings and source of all life,
we thank you for setting us in communities:
for families who nurture our becoming,
for friends who love us by choice,
for companions at work who
share our burdens and daily tasks,
for strangers who welcome us into their midst,
for people from other lands who
call us to grow in understanding, and
for children who lighten our moments with delight.
For these, and all blessings,
loving God we give you thanks.
Amen.
Photo of Habitat for Humanity volunteers with their arms in the air holding framed lumber for a wall. Arms raised in praise can, at the same time, carry weight.
Photo copyright 1993 Danny N. Schweers.
Prayer is an excerpt from "Prayer of Thanksgiving" by Vienna Cobb Anderson